"How Does Your Local Service Business Rank on Google and Other Search Engines?"
If your clients and prospects cannot find you online, it is detrimental to your business success. Visibility online and especially on Google is essential in today's marketplace.
Search Engine Optimization is the process and science of increasing the number of prospects who visit your website and Google My Business page by implementing a strategy that increases the relevancy of the content of the site to the search term queried by the prospect. In laymen's terms, search engine optimization increases Google and other search engines ranking of your online properties until you have maximized your online visibility by ranking above your toughest competition. Search Engine Optimization is the #1 way to increase calls and sales for a local service business like yours.
We use our computer programs specifically designed to determine local and national ranking to see just how visible (or invisible) your local service business is online for your prospects. Then we compare that data to your competition to design a search engine optimization strategy that will work best for your local service business.
We can even use our program that ties directly into the Google API to show you how you rank at your business location and many locations surrounding your business where your prospects will be seeking a local provider. This is called a geogrid. Here is an example of a geogrid showing Google rankings around the business location.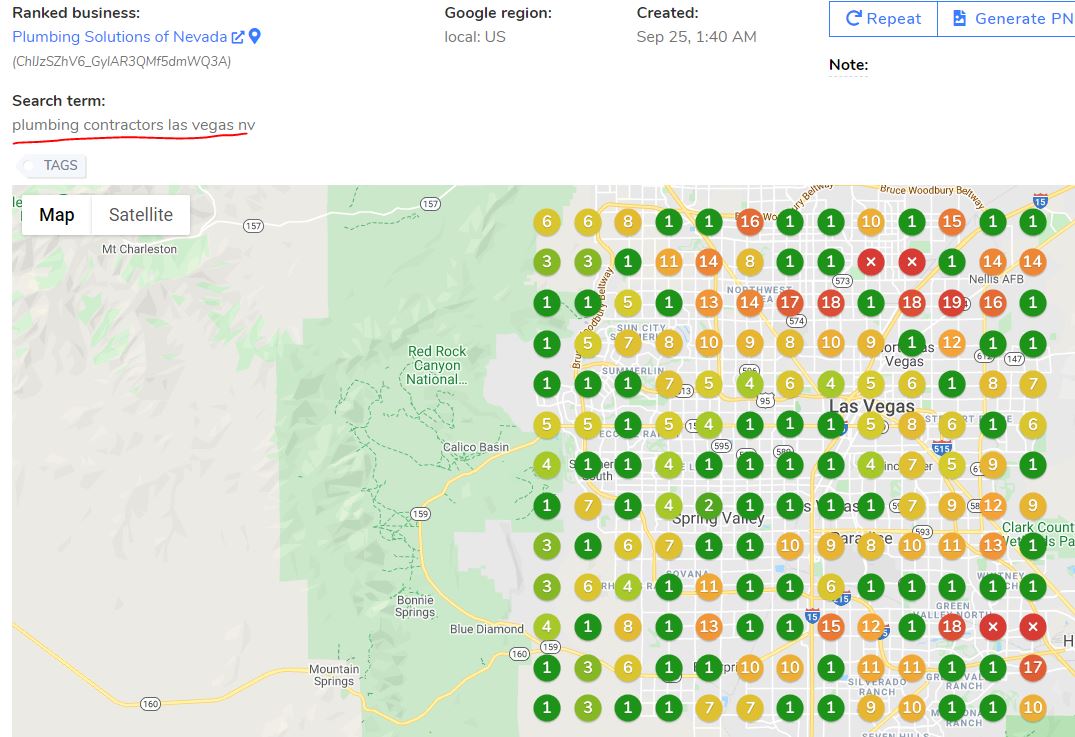 This geogrid report shows how many businesses rank #1 at their address, but fail to be visible in the top rankings a short distance from their office location.
Many local businesses have no way to see their actual local ranking in a 5-mile radius where their best local prospects search for a provider. This Geogrid Local Ranking Report shows what your prospects see when they go to Google and the other search engines looking for a provider of what you sell. For a limited time, I am offering a FREE Google Local Ranking Report for your practice or business before I change the price to $97. You can request your FREE Report by clicking the link in the last paragraph or going to the Contact page of this website.
Don't just throw up a website online, and wonder why it isn't visible on Google. Online marketing requires a solid search engine optimization strategy and consistent efforts to rank in the top listings online and on Google. We have ranked local service businesses not only #1 for their top keyword, but ranking #1 for 37 top keywords that made the phone ring with profitable new business and dominated the competition.
See the Case Study of actual search engine optimization results with a reduction in cost per call from more than $30 to less than $10 per call and a 3244% increase in incoming service calls achieved for my client here.
To get a Free Ranking Report for your business, click this link and let me know the name of your business, its' address and your top keyword you would like to rank in Google. I will reply in about 24 hours during regular business hours Monday – Friday with your geogrid ranking report just like the one above. It will not only show how your rank at your business location, but also shows how you rank in outlying areas where your prospects live. Most local service business owners learn a ton from these FREE geogrid ranking reports, so get yours today before the price goes to $97!