This campaign was started with minimal budget for the first 3 years. Additional budget achieves higher rankings and results more quickly, increasing incoming calls and slashing cost-per-call. With adequate budget, we are now seeing increases in GMB ranking and incoming calls in weeks, not months.
Starting Point 3-11-16 Google My Business page Insights for the last 30 days
1080 Views
42 Clicks
9 Tracked phone calls per month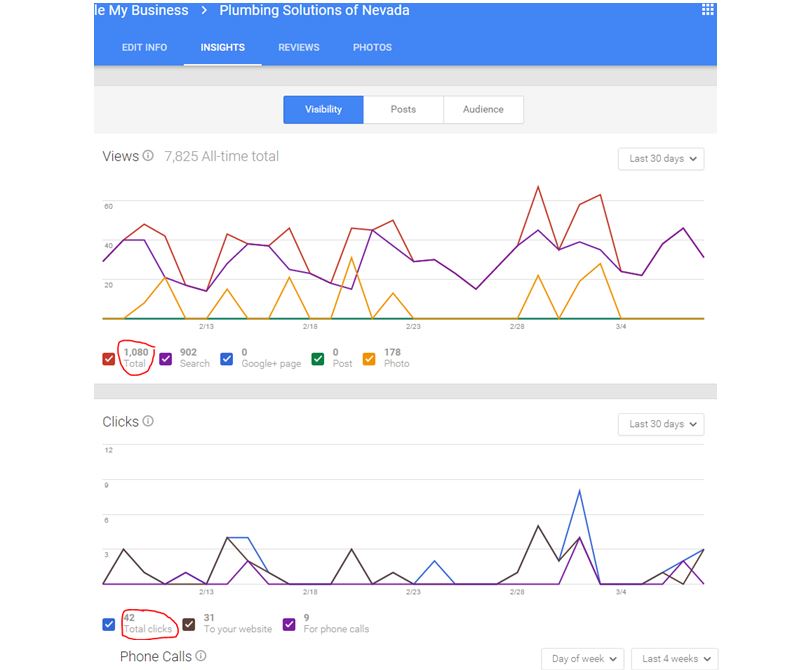 Progress on 6-21-16 (3 months into campaign)
Ranked #5 in Google My Business with 193 listed competitors.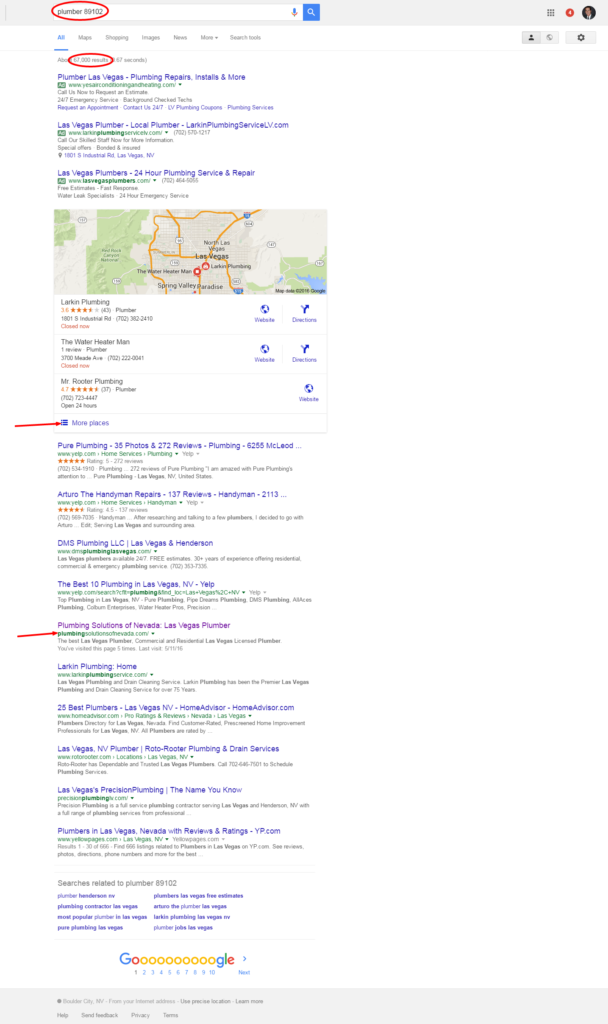 Google My Business Progress 7-7-16 (4 months into campaign)
2185 Views
55 Clicks
21 Tracked phone calls per month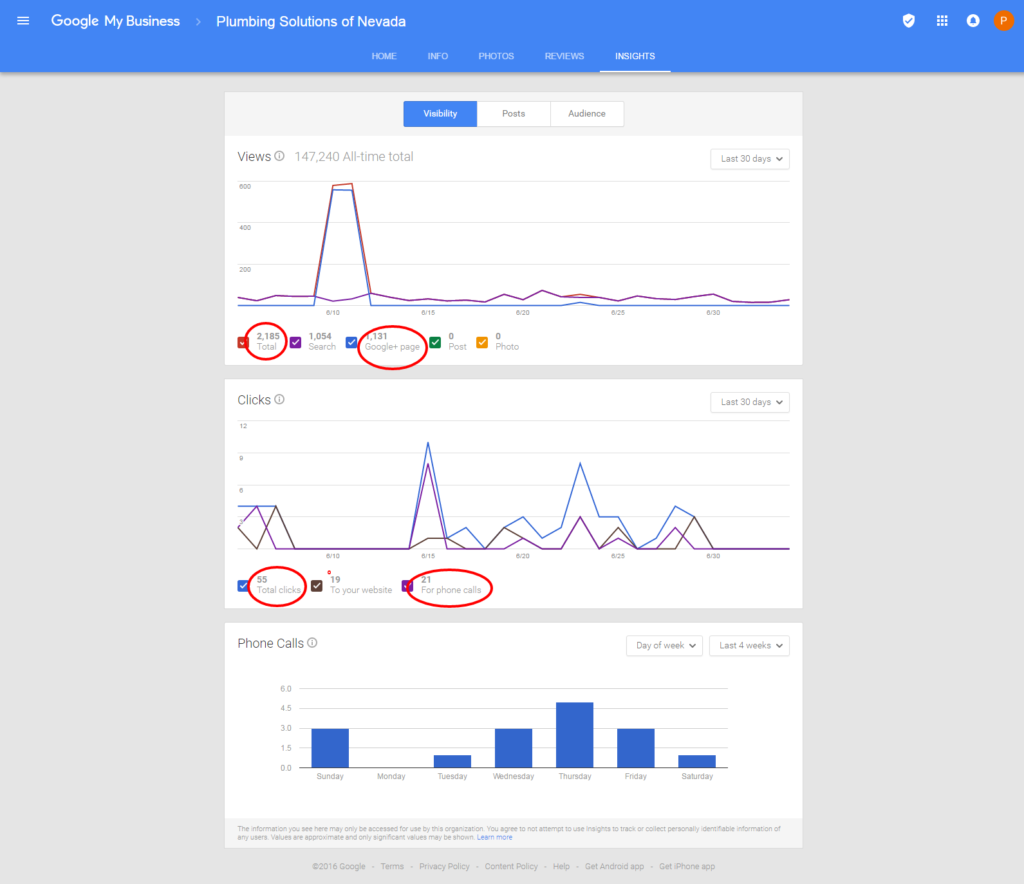 Ranking increase to #2 in Google My Business (GMB) by 9-7-16 against a very tough competitor after just a few months search engine optimization work on both the website and GMB page. (6 months into campaign)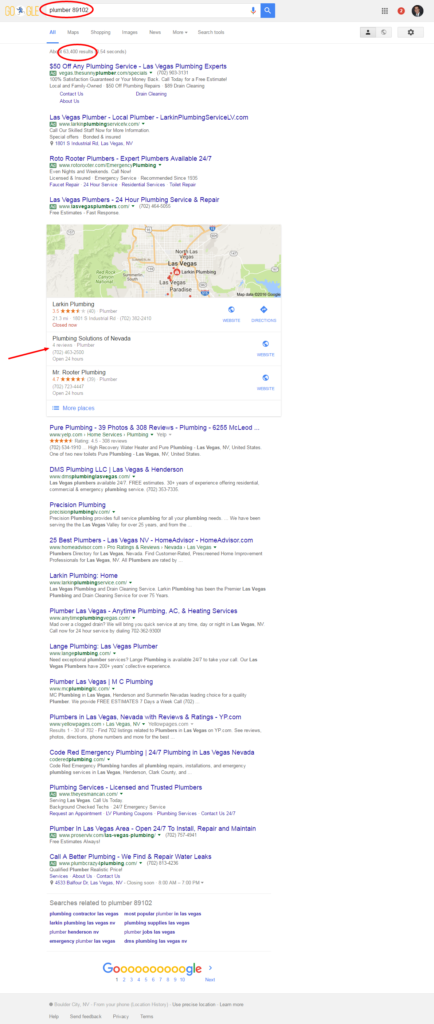 Keyword rankings for GMB page 9-17-21. This partial list shows the GMB page ranking for many top profitable keywords and phrases. (Local rank = GMB page ranking)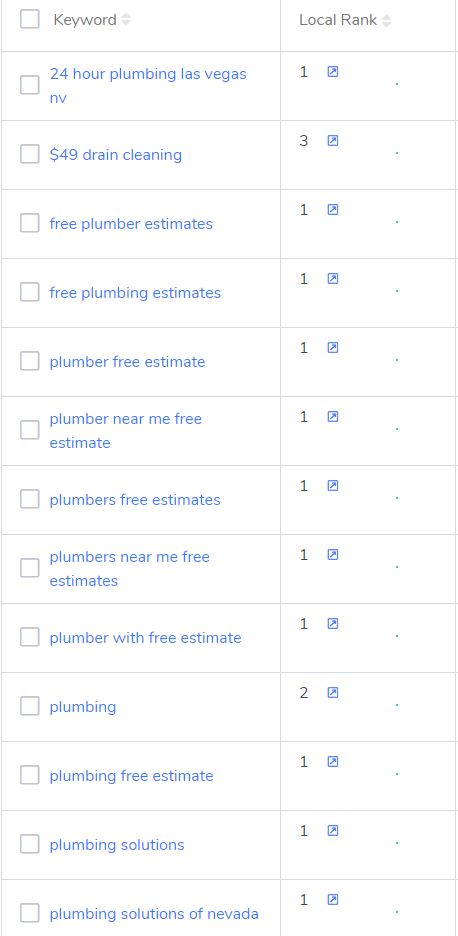 Google My Business page ranking #1 on 10-16-21 for 37 of the most profitable keywords and phrases for this industry. Website also ranking #1 for many keywords, but remember that your GMB page appears ABOVE the websites in Google search and only GMB pages appear in Google Maps on mobile devices, which is more than 50% of all search queries. (local rank = GMB page ranking with this software)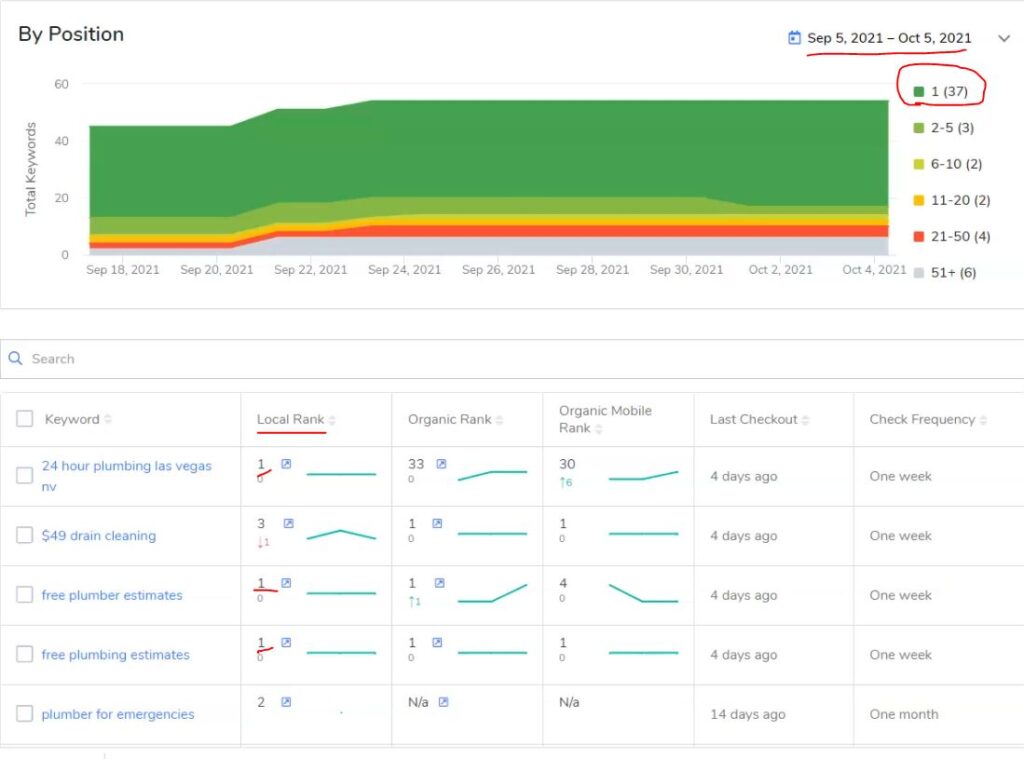 Here is a geogrid of how this local service business ranked locally at the start of their campaign.
You can see they ranked as low as 18th and 19th, even though they ranked #1 at their location.
Dramatic Improvement Increased Calls and Slashed Advertising Costs from More than $30 per Call to Less than $10 a Call!
The geo-grid below shows how the business ranks across the entire Las Vegas valley for the #1 most profitable keyword phrase, "plumbing free estimate" on 9-24-21. The Google API shows a ranking of #1 over most of the Las Vegas valley, with some #2 and #3 rankings even in outlying areas. You may request a Free geo-grid of how Google ranks your business at many points around your location using the Contact Form on the Contact page. This Google ranking at various points is extremely valuable to know, and why I pay for this software.
Google My Business Insights 9-24-21
295 website visits from the GMB page
301 tracked calls from the "Call" button on the GMB page
13 text messages received
4583 tracked calls and 80 texts over the last 18 months when we used a call tracker phone number on the GMB page and website to get accurate tracking. My call tracking studies have shown that the GMB page only reports about 50% of all calls, so you need to add a call tracker phone number to get an accurate count.

292 tracked calls and 5 text messages from the GMB page and website for August 2021
589 high value backlinks from high Domain Authority sites created during the campaign to increase ranking and domain authority.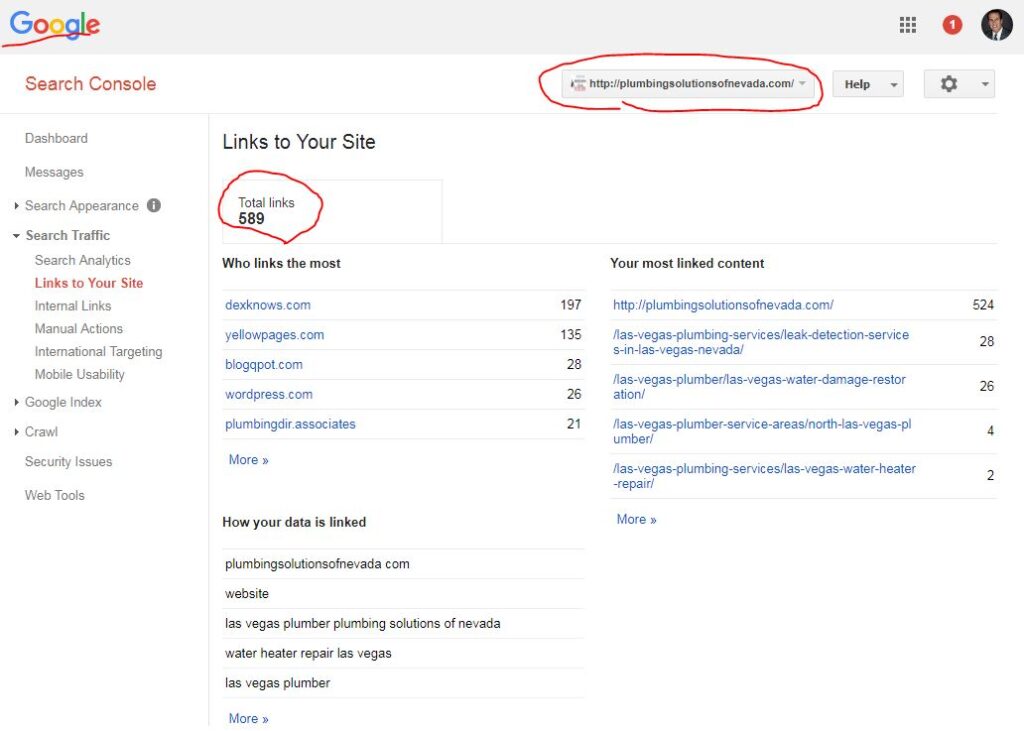 36% increase in page views and 30% increase in average page duration over 28 days! The more prospects see your business and the longer the prospect stays on the website, the more chances to generate a new client.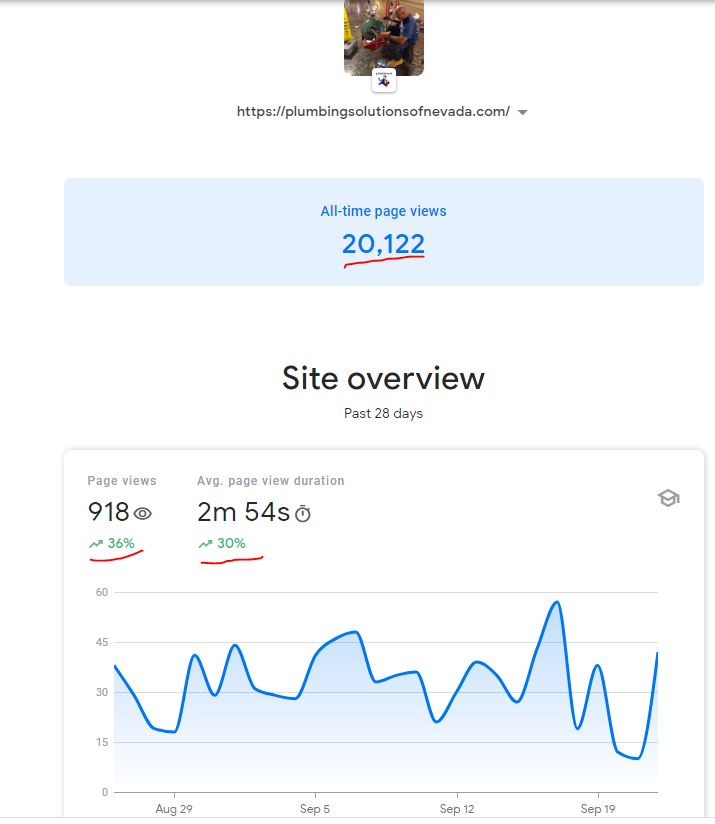 Summary of Value Delivered
I could post many metrics here, but the single most important metric of any advertising campaign is incoming phone calls (not impressions, views or likes). If your advertising is not producing as many incoming phone calls as you hoped, book a Free Discovery Call with me so we can upgrade and position your advertising to get you the most calls possible for your advertising dollar.
This campaign went from 9 to 292 tracked incoming calls per month. That's going from 1 call every 3 days, to 10 calls a day, and a 3244% increase!
These are only the calls from the website and Google My Business page, where I installed a call tracker phone number. All other sources of calls like Yelp, Home Advisor, and dozens of other internet directories were in addition to the 292 tracked calls, so actual incoming calls total was higher.
Plumbing Solutions tried many other sources of incoming calls. These lead sources like Yelp, Google Ads, Las Vegas Review print and online ads, Home Advisor, etc provided incoming calls at the cost of $30-50+ each, which was too expensive.
This local service business advertising campaign was started with a minimal budget. We then used the additional profits from the streamlined advertising campaign to fund additional upgrades and advancements to dominate their market.
This campaign made my client the #1 ranked plumber out of 193 listed plumbing companies in Google My Business with Las Vegas addresses for the top 37 keywords for their industry.
Instant Local Marketing Profits provided incoming calls at a cost below $10 each, or less than 1/3 the cost of the closest competition!
If your local service business will benefit from many more incoming service calls at a lower cost, I recommend you schedule a Free Discovery Call so that you can see what you can discover to upgrade and position your advertising and make more money.
Click the top link below to schedule your Free Discovery Call today!
Book your Free Discovery Call at https://calendly.com/asklarryconn
Mini Master Class on Local Service Business Advertising is here
More information can be found at https://instantlocalmarketingprofits.com/
Our Google My Business page can be seen here